(Includes: Limassol, Old Chirokitia (archaeological site), Lefkara Village, Nicosia, Ledras street, Laiki Geitonia, Archbishop's Palace, Byzantine Museum, Library of the Archbishopric, Folk Art Museum , National Struggle Museum, Agios Ioannis Cathedral)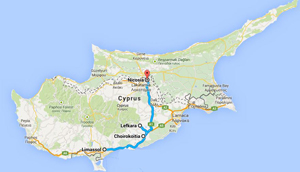 Show the Route in a Larger Map
Leaving the crowded and touristictal city of Limassol behind we will get on the highway and go straight away to Khirokitia. Khirokitia is an archaeological site from the Neolithic age. It has been listed as a World Heritage Site by UNESCO since 1998.
Next destination will be the village of Lefkara.  Lefkara is a village famous for its lace, known as lefkaritika.
Finally, Nicosia! We will visit Ledras street and Laiki Geitonia. Ledra Street is a major shopping thoroughfare in central Nicosia, Cyprus. Then you can walk to Laiki Geitonia and choose one of the traditional taverns for lunch. You will have the chance to taste traditional Cypriot food and Mediterranean cuisine.
Archbishop's Palace is the official residence and office of the archbishop of Cyprus. Although the Archbishop's Palace is not open to the public; the Byzantine Museum, Library of the Archbishopric, Folk Art Museum and the National Struggle Museum located on its grounds are open to the public.
Last visit will be Agios Ioannis Cathedral within the old city walls. Is built on the site of the 14th century chapel of the Benedictine Abbey of Agios Ioannis the Evangelist of Bibi.

There will be time for you to shop and have lunch.We are looking forward to welcoming you in one of our cars. The tour can be customized so you can suggest places to add or remove from the excursion. The duration of the excursions is 8 hours but you can if you want request a shorter version.