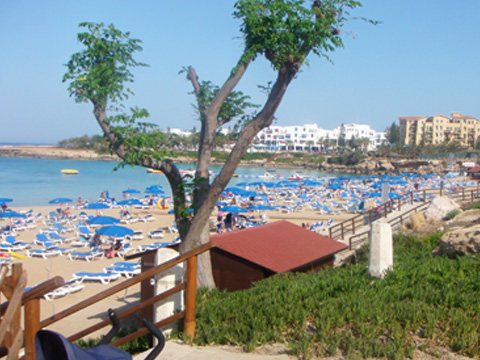 taxi from larnaca airport to protaras
The drive time from 
Paphos Airport to Protaras
 is about 150 minutes and the taxi fare is about 160 Euro.
The journey from 
Larnaca airport to Protaras
 takes about 45 minutes and the taxi costs about 65 Euro. 
Travel from Paphos Airport to any Protaras hotel, with 
Acropolis Taxis
 so you can rest assured that your holiday transfers are in safe hands. The easiest way to get to your place of residence is by booking a transfer in advance.
Book your Paphos Airport Taxi to Protaras NOW!

To travel in comfort and at a reasonable price, reserve a taxi from Paphos airport to Protaras. Protaras is located less than an hour's cab ride from Paphos International Airport (PFO), halfway between Cape Greco and the settlement of Paralimni. Protaras is a resort that was constructed with tourists in mind. It has a good selection of all-inclusive hotels, bars, and restaurants. It's fortunate that the major stretch of coastline within the resort is a lovely stretch of golden sand because vacations here are frequently centred around the beach. But Protaras vacations have more to offer than that! Nearby attractions include a water park, a go-kart track, and breath-taking hiking paths.
Protaras has always been a family-friendly area, but when the lights go down at night, it becomes a party town. The night life in Protaras is second to none, with many bars and clubs in the area, although it is spread out a bit more, so if you are looking for a quiet night out, Protaras has plenty of options. Protaras' main beach is a beautiful stretch of golden sand backed by pleasant shrubbery and rocky outcrops. However, there are plenty of other beaches to enjoy in the Protaras area. Fig Tree Bay is one of the most picturesque beaches in Protaras, and you will love the white sand. Other nearby beaches include Green Bay, and Konnos.
Book your Paphos Airport Taxi to Protaras NOW!

Protaras is another popular tourist destination located on the eastern coast of Cyprus, not far from Ayia Napa. It is known for its stunning beaches, crystal-clear waters, and family-friendly atmosphere. Here are some key points about Protaras:
Beaches: Protaras is famous for its beautiful sandy beaches. Fig Tree Bay, in particular, is one of the most well-known and picturesque beaches on the island. Other notable beaches in the area include Konnos Beach, Sunrise Beach, and Green Bay.
Water Sports: Similar to Ayia Napa, Protaras offers a wide range of water sports and activities, including snorkeling, scuba diving, jet skiing, and paddleboarding. The calm and clear waters of the area make it a great place for water-based adventures.
Cape Greco: Protaras is near Cape Greco National Forest Park, which offers hiking and exploration opportunities. The rugged coastal cliffs, sea caves, and natural beauty of this area make it a popular destination for outdoor enthusiasts.
Family-Friendly Attractions: Protaras is known for being a family-friendly destination. Along with its safe and shallow beaches, the town also features attractions like Ocean Aquarium Park, which is home to a variety of marine life, and the Magic Dancing Waters Show, an evening entertainment spectacle.
Dining: Protaras offers a variety of dining options, from traditional Cypriot tavernas serving local dishes to international restaurants. It's a great place to enjoy fresh seafood and Mediterranean cuisine.
Nightlife: While Protaras is not as famous for its nightlife as Ayia Napa, it still has a selection of bars and clubs for those looking for evening entertainment. The nightlife in Protaras tends to be more relaxed and family-oriented compared to the party scene in Ayia Napa.
Boat Tours: Visitors can take boat tours and excursions from Protaras to explore the nearby coastline, including visits to sea caves and snorkeling spots. Many tours also offer the opportunity to see local marine life.
Shopping: Protaras has a range of shops and boutiques where you can purchase souvenirs, clothing, beachwear, and local products.
Overall, Protaras is known for its natural beauty, family-friendly atmosphere, and relaxing beach vacations. It's a great destination for those looking to enjoy the sun, sea, and outdoor activities in a more tranquil setting compared to the nearby party scene of Ayia Napa.