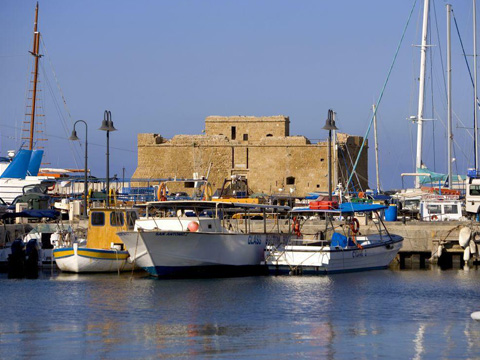 paphos airport taxis
The drive time from 
Paphos Airport to Paphos town
 is about 25 minutes and the taxi cost is about 37 Euro for a taxi (up to 4 passengers) and 42 Euro for a minivan (up to 6 passengers).  The journey from 
Larnaca airport to Paphos city
takes about 90 minutes and by taxi it costs about 124 Euro for a taxi (up to 4 passengers) and 160 Euro for a minivan (up to 6 passengers). 
Travel from Paphos Airport to any Paphos hotel, with Acropolis Taxis so you can rest assured that your holiday transfers are in safe hands. The easiest way to get to your place of residence in Paphos is by booking a transfer in advance. Reserve your taxi Paphos with us. 
Book your Paphos Airport Taxi to Paphos NOW!
There is something for everyone in Paphos, with its archaeological sites, charming villages and famous harbour, excellent water sports and unforgettable experiences. The ancient city of Pafos was the capital of what is now Cyprus. Its ancient remains, such as the Roman governor's palace, a Byzantine Castle, and the famous Pillar where Saint Paul is believed to have been flogged, attest to its importance. In Greek mythology, Pafos is said to be the birthplace of Aphrodite, who was born at Petra tou Romiou, where she rose from the sea.

In addition to all the historic sites to explore in Paphos, you will also find beautiful beaches and a variety of high-class bars, clubs, and restaurants. In fact, the all-inclusive holiday packages offered in the luxury resort of Paphos are so good that Forbes Magazine recently named it one of the Top 5 Luxury Resorts in the world. You will also find two excellent golf courses near Paphos, as well as a number of new developments.
Book your Paphos Airport taxi to Paphos Town Now!

Paphos is a historic coastal city located on the southwestern coast of Cyprus. It is one of the island's major tourist destinations and is known for its rich history, archaeological sites, beautiful beaches, and pleasant Mediterranean climate. Here are some key points about Paphos:
Archaeological Sites: Paphos is home to a significant number of archaeological sites, including the Paphos Archaeological Park, which is a UNESCO World Heritage Site. Within the park, you can explore the well-preserved ancient Roman villas with stunning mosaics, such as the House of Dionysus and the House of Theseus. The Tomb of the Kings, an underground burial complex, is another notable archaeological attraction.
Aphrodite's Rock: Near Paphos, you can find the legendary birthplace of Aphrodite, the Greek goddess of love, known as Petra tou Romiou (Aphrodite's Rock). According to mythology, Aphrodite emerged from the sea foam at this beautiful coastal spot.
Paphos Castle: Paphos Castle, located at the entrance to the harbor, is a medieval fortress dating back to the 13th century. It has been used for various purposes over the centuries and now serves as a popular tourist attraction and a venue for cultural events.
Beaches: Paphos offers a variety of beaches, including Coral Bay, a Blue Flag beach known for its golden sands and clear waters, and Faros Beach, located near the Paphos Lighthouse. These beaches are ideal for swimming, sunbathing, and water sports.
Tombs of the Kings: The Tombs of the Kings is another archaeological site in Paphos, known for its underground burial chambers and tombs dating back to the Hellenistic and Roman periods. Despite its name, it was not used exclusively by royalty but rather by the elite.
Akamas Peninsula: The Akamas Peninsula, located northwest of Paphos, offers opportunities for outdoor activities such as hiking, jeep safaris, and boat trips. It is a protected area known for its natural beauty and diverse wildlife.
Paphos Harbour: Paphos Harbor is a charming area with a picturesque promenade lined with restaurants, cafes, and bars. It's a great place for a leisurely stroll and to enjoy views of the sea and fishing boats.
Dining: Paphos offers a wide range of dining options, from traditional Cypriot tavernas serving meze to international cuisine. You can also enjoy fresh seafood in many restaurants.
Cultural Events: Paphos hosts various cultural events and festivals throughout the year, including music concerts, theater performances, and art exhibitions.
Aphrodite Festival: The Aphrodite Festival is an annual event held in Paphos, featuring opera performances at the Paphos Castle courtyard. It's a unique cultural experience for music enthusiasts.
Paphos is a city that seamlessly blends history, culture, and natural beauty, making it a popular destination for tourists interested in exploring the rich heritage of Cyprus while also enjoying the Mediterranean coastline. Whether you're interested in archaeology, relaxation on the beach, or outdoor adventures, Paphos has something to offer for all types of travelers.