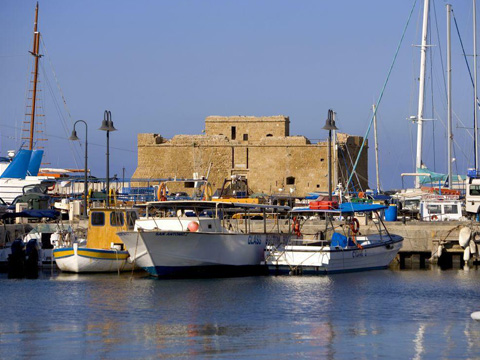 paphos airport taxis
The journey from 
Larnaca airport to Paphos
by taxi takes about 90 minutes and by taxi it costs about 124 Euro for a taxi (up to 4 passengers) and 160 Euro for a minivan (up to 6 passengers). The drive time from
Paphos Airport to Paphos
is about 25 minutes and the taxi cost is about 37 Euro for a taxi (up to 4 passengers) and 42 Euro for a minivan (up to 6 passengers). 
Travel from Larnaca Airport any Paphos hotel, with Acropolis Taxis so you can rest assured that your holiday transfers are in safe hands. The easiest way to get to your place of residence in Paphos is by booking a transfer in advance. Reserve your
taxi Paphos
with us. 
Book your Larnaca Airport Taxi to Paphos NOW!
Paphos has so much to offer all ages including fascinating archaeological sites, pretty villages and its famousharbour, as well as great water sports and plenty of memorable moments.
Pafos was once the capital of Cyprus, and the evidence of its importance can still be seen today in ancient ruins like the Roman governor's palace, as well as a Byzantine Castle and even a famous Pillar where St. Paul was said to have been lashed. As well as this vein of history, Paphos has legendary roots in Greek mythology too, as it is said that Aphrodite was born here, rising from the sea at Petra Tou Romiou.

As well as all the historical sites to see here, Paphos can boast some lovely beaches and many classy bars, clubs and restaurants. In fact, the luxury all inclusive holidays offered in the exclusive Aphrodite Hills have recently been described as one of the top five luxury resorts in the world by Forbes Magazine. And as with many modern up-and-coming developments, you'll find two fantastic golf courses close to Paphos too.
Book your Larnaca Airport taxi to Paphos Town Now!

Paphos is a popular tourist destination in Cyprus, known for its rich history, beautiful landscapes, and diverse attractions.

Here are some reasons why you should consider visiting Paphos:
Historical Sites: Paphos is steeped in history and is a UNESCO World Heritage Site. It is home to numerous archaeological sites, including the Tombs of the Kings, a burial site dating back to the 4th century BC, and the Paphos Archaeological Park, which features well-preserved Roman villas with stunning mosaics.
Aphrodite's Birthplace: According to Greek mythology, Aphrodite, the goddess of love and beauty, was born near Paphos. You can visit the legendary Aphrodite's Rock (Petra tou Romiou), which is said to be her birthplace, and enjoy the breathtaking coastal views.
Beaches: Paphos offers a variety of beautiful beaches with crystal-clear waters. Coral Bay is one of the most popular beaches in the area, known for its golden sands and water sports opportunities. There are also quieter and more secluded coves if you prefer a peaceful beach experience.
Natural Beauty: Beyond its beaches, Paphos boasts stunning natural landscapes. The Akamas Peninsula, a protected nature reserve, offers hiking and nature exploration with diverse flora and fauna.
Cultural Attractions: Paphos has a vibrant cultural scene, with theaters, galleries, and cultural festivals. The Odeon Amphitheatre often hosts performances and concerts, providing a taste of Cypriot culture.
Food and Wine: Paphos is known for its delicious Cypriot cuisine. You can enjoy fresh seafood, traditional meze (a variety of small dishes), and local wines. Don't miss the opportunity to taste Cypriot specialties like souvlaki, moussaka, and loukoumades (honey doughnuts).
Scuba Diving: The crystal-clear waters of Paphos make it an excellent destination for scuba diving and snorkeling. There are several diving centers that offer underwater exploration of shipwrecks and marine life.
Golf: Paphos has some world-class golf courses, making it a popular destination for golf enthusiasts. The courses offer stunning views of the Mediterranean Sea and are well-maintained.
Relaxation: Paphos is a laid-back destination, making it ideal for those seeking a relaxing vacation. You can spend your days lounging on the beach, enjoying spa treatments, or exploring the charming old town.
Warm Climate: Paphos enjoys a Mediterranean climate with mild winters and hot, dry summers, making it a year-round destination for travelers seeking pleasant weather.
Overall, Paphos offers a perfect blend of history, culture, natural beauty, and leisure activities, making it an excellent choice for a vacation in Cyprus. Whether you're interested in exploring ancient ruins, relaxing on the beach, or indulging in delicious cuisine, Paphos has something to offer every traveler.
 
Related
8 reasons to choose Paphos for your holidays
Book a taxi online for Larnaca airport transfers (2023 update) - 9 reasons

Book a taxi for Larnaca airport transfers (easy & reliably!) - 5 steps