(Includes: Nicosia, Ledras street, Laiki Geitonia, Archbishop's Palace, Byzantine Museum, Library of the Archbishopric, Folk Art Museum, National Struggle Museum, Troodos, Platres, Miliomeri Waterfalls, Limassol, Limassol Old town, Limassol Marina, Limassol Castle)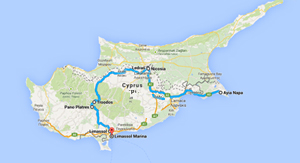 Our first stop in Nicosia will be Ledras street and Laiki Geitonia. Then you can walk to Laiki Geitonia and choose one of the traditional taverns for lunch. You will have the chance to taste traditional Cypriot food and Mediterranean cuisine. Archbishop's Palace is the official residence and office of the archbishop of Cyprus located in Nicosia. The palace was built next to the "Old Archbishop's Palace", between 1956 and 1960; in neo-Byzantine architecture style. Although the Archbishop's Palace is not open to the public; the Byzantine Museum, Library of the Archbishopric, Folk Art Museum and the National Struggle Museum located on its grounds are open to the public. Last visit will be Agios Ioannis Cathedral within the old city walls. Is built on the site of the 14th century chapel of the Benedictine Abbey of Agios Ioannis the Evangelist of Bibi. Enjoying the countryside and leaving the crowded city of Nicosia we will be driving towards the mountains of Troodos. Troodos is the largest mountain range in Cyprus, located in the center of the island. Troodos' highest peak is Mount Olympus at 1,952 meters which also hosts 4 ski slopes. The Troodos mountain range stretches across most of the western side of Cyprus. There are many famous mountain resorts, Byzantine monasteries and churches on mountain peaks, and nestling in its valleys and picturesque mountains are villages clinging to terraced hill slopes. Milomeri Platres waterfalls. Millomeri waterfalls is actually the highest waterfall in Cyprus. At Millomeri Fall, the water falls from a height of 15 meters. The most obvious reason for that, is due to the fact that access to Millomeri waterfall was made easier a couple of years ago, so only few people knew about this place… Heading towards Limassol and the most developed city of Cyprus! Major stop will be at the old port of Limassol. There you will be informed of the what to do! Limassol Marina, old Castle and city centre are placed 10 minutes walking distance! From high class restaurants to traditional taverns can be found to enjoy your lunch time.

There will be time for you to shop and have lunch.We are looking forward to welcoming you in one of our cars. The tour can be customized so you can suggest places to add or remove from the excursion. The duration of the excursions is 8 hours but you can if you want request a shorter version.