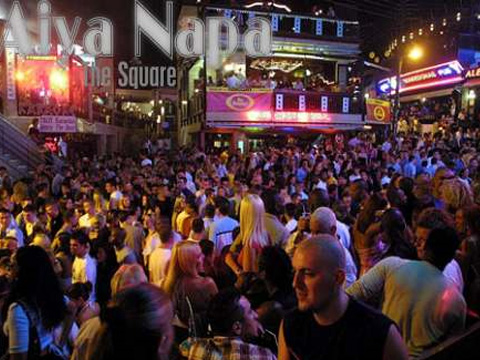 The journey from
Larnaca airport to Ayia Napa
takes about 40 minutes and by taxi it costs about 59 Euro. The drive time from
Paphos Airport to Ayia Napa
is about 140 minutes and the taxi cost is about 160 Euro. 
Travel from Larnaca Airport any Ayia Napa hotel, with Acropolis Taxis so you can rest assured that your holiday transfers are in safe hands. Due to the lack of public transport to the resort, the easiest way to get to your place of residence is by booking a transfer in advance. Reserve your taxi Ayia Napa with us. 
Book your Larnaca Airport Taxi to Ayia Napa NOW!

Ayia Napa is a large and world-renowned tourist resort. Situated on the south eastern peninsula of the island, Ayia Napa was once a small fishing village but in recent years has emerged as the island's most popular beach resort.
When it comes to holidays to Ayia Napa, we have to mention the fantastic, frenetic nightlife. Ayia Napa holidays have built up an enviable reputation as a hotspot for dance music and big name DJs. With its sleek, modern bars and large lively clubs, holidays to Ayia Napa can even lay claim to increasing the popularity of the R'n'B, Garage and Grime music scenes in the UK.
Surprisingly, it's not all about the nightlife in Ayia Napa. It's perfectly possible to have peaceful holidays here, relaxing in all inclusive luxury at the many five star hotels. And with plenty of activities like water parks and go-karting courses close by, it's easy to see how Ayia Napa offers just as much fun for families with children as it does to the clubbing community.
Ayia Napa attracts a large number of tourists and features a number of bathing beaches, on which water sports such as water-skiing, windsurfing, canoeing, scuba diving, and speed boating are popular. Ayia Napa holds the first place for having the most beautiful beaches in Cyprus. Nissi beach , Konnos, Pernera and Limnara are some of the outstanding beaches along Ayia Napa. The most popular of these beaches is Nissi beach, which is visited mainly by clubbers and young people in the summer and gets quite crowded.
Ayia Napa is visited by hundreds of thousands of tourists each summer, mainly from Western and Southern Europe. In the summer the resort mainly attracts two types of people: free young people and young people usually under 25, who are attracted by Ayia Napa's reputation for nightlife and spree in the city center. The other type of tourists are couples and families with children who visit the resort mainly due to the wonderful weather and the sandy beaches. With more than fifty bars and ten nightclubs, Ayia Napa is worthy of being named Europe's most fun capital along with Ibiza. Tourists visit Ayia Napa also during the winter season, mainly tourists from the Scandinavian countries. It is also a destination for European football teams to train at the sixteen football stadiums built by the municipality of Ayia Napa.
Want to get an airport taxi from Larnaca to Ayia Napa?
Book your Taxi from Larnaca Airport to Ayia Napa NOW!

FAQ
Which is the closest airport to Ayia Napa?
The closest airport to Ayia Napa is Larnaca International Airport (IATA code: LCA).
Larnaca Airport is located approximately 40 kilometers (25 miles) southwest of Ayia Napa, making it the most convenient airport for travelers heading to Ayia Napa.
Ayia Napa, located on the southeastern coast of Cyprus, is a popular tourist destination known for its stunning beaches, vibrant nightlife, and a wide range of recreational activities.

Here are several reasons why people visit Ayia Napa:
Beautiful Beaches: Ayia Napa boasts some of the most beautiful beaches in Cyprus. Nissi Beach, Makronissos Beach, and Konnos Bay are just a few examples. These beaches offer crystal-clear waters, golden sands, and a variety of water sports activities.


Nightlife: Ayia Napa is famous for its vibrant nightlife scene. The town is home to numerous bars, clubs, and beach parties that cater to a wide range of musical tastes. It's a top destination for partygoers looking to dance the night away.


Water Sports: The town offers a plethora of water sports activities, including jet skiing, parasailing, scuba diving, and snorkeling. The clear waters of the Mediterranean make it an ideal place for water enthusiasts.


Ayia Napa Sculpture Park: This unique park features a collection of contemporary sculptures created by international artists. It's a great place for art lovers to explore and enjoy the fusion of art and nature. More information here


Cape Greco: Located just a short drive from Ayia Napa, Cape Greco is a beautiful coastal area known for its stunning natural beauty. Visitors can explore hiking trails, sea caves, and enjoy panoramic views of the Mediterranean Sea. Read more


WaterWorld Themed Waterpark: WaterWorld is one of the largest themed water parks in Europe. It offers a variety of water rides and attractions suitable for visitors of all ages, making it a fantastic family-friendly destination. Official Website


Historical and Cultural Sites: While Ayia Napa is often associated with its party scene, it also has some historical and cultural attractions worth exploring, such as the Ayia Napa Monastery, which dates back to the 16th century.


Local Cuisine: The town has a range of restaurants and eateries serving delicious Cypriot and international cuisine. Don't miss the opportunity to try traditional dishes like souvlaki, meze, and freshly caught seafood.


Beach Parties and Events: Ayia Napa hosts various beach parties, music festivals, and events throughout the year. These events attract music enthusiasts and partygoers from around the world.


Relaxation: While Ayia Napa is known for its lively atmosphere, it also offers opportunities for relaxation. Many resorts in the area have beautiful pools, spa facilities, and serene settings for those looking to unwind.


Whether you're seeking an exciting nightlife experience, water sports adventures, or simply a relaxing beach vacation, Ayia Napa has something to offer for all types of travelers, making it a popular destination on the island of Cyprus.