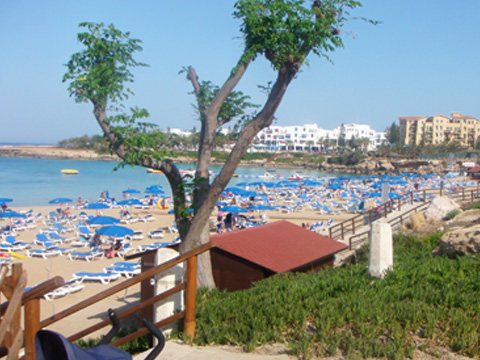 taxi from larnaca airport to protaras
The journey from 
Larnaca airport to Protaras
takes about 45 minutes and the taxi costs about 65 Euro. The drive time from
Paphos Airport to Protaras
is about 150 minutes and the taxi fare is about 160 Euro. 
Travel from Larnaca Airport to any Protaras hotel, with
Acropolis Taxis
so you can rest assured that your holiday transfers are in safe hands. Due to the lack of public transport to the resort, the easiest way to get to your place of residence is by booking a transfer in advance.
Book your Larnaca Airport Taxi to Protaras NOW!

Book your taxi from Larnaca airport to Protaras, travel in style and at affortable prices. Protaras is situated between Cape Greco and the village of Paralimni, less than one hour taxi drive from Larnaca International Airport. Protaras is a purpose built resort with a good selection of all inclusive hotels and bars and restaurants specifically aimed at the tourist experience. Holidays here are often based around the beach, so it's just as well that the main stretch of coast within the resort is a delightful stretch of golden sand. But that's not all Protaras holidays have to offer! You'll also discover a go-karting track, a water-park and breathtaking nature trails all nearby.
Protaras is a family friendly area, but it can turn into a real party place when the night draws in. The nightlife in Protaras is probably second only to Ayia Napa with plenty of bars and nightclubs. Protaras is more spread out, so there is plenty of space should anyone fancy a quiet night.
The main beach in Protaras is a sight to behold – it's a long stretch of soft golden sand backed with pleasant natural shrubs and rocky headlands. But there are even more beaches to delight you in the area of Protaras. You'll love the soft white sands of Fig Tree Bay, and then there's Green Bay and Konnos close by too.
Book your Larnaca Airport Taxi to Protaras NOW!

FAQ
Which is the closest airport to Protaras?
The closest airport to Protaras is Larnaca International Airport (LCA).
Larnaca Airport is located approximately 42 kilometers (27 miles) southwest of Protaras, making it the most convenient airport for travelers heading to Ayia Napa.
Protaras, located on the southeastern coast of Cyprus, is a charming resort town known for its beautiful beaches, family-friendly atmosphere, and a variety of attractions and activities.

Here are several reasons why people visit Protaras:
Gorgeous Beaches: Protaras is renowned for its stunning beaches with crystal-clear waters and golden sands. Fig Tree Bay, one of the most famous, is often ranked among the best beaches in Europe. Other notable beaches include Konnos Bay and Sunrise Beach.


Water Sports: The calm and clear waters of Protaras make it an ideal place for water sports enthusiasts. Visitors can enjoy activities like snorkeling, scuba diving, jet skiing, parasailing, and paddleboarding.


Cape Greco National Forest Park: Just a short drive from Protaras, Cape Greco is a protected area known for its natural beauty. Visitors can explore hiking trails, sea caves, and enjoy breathtaking views of the Mediterranean Sea. It's a great place for nature lovers and outdoor enthusiasts.


Protaras Coastal Promenade: The scenic coastal promenade is perfect for leisurely walks and bike rides. It offers beautiful views of the coastline and is lined with cafes and restaurants where you can stop for a meal or a drink.


Family-Friendly Atmosphere: Protaras is a popular destination for families. The calm waters and gentle beaches are safe for children, and there are plenty of family-oriented activities, including mini-golf, go-karting, and water parks like Protaras Ocean Aquarium.


Boat Trips: Visitors can take boat trips from Protaras to explore nearby attractions and enjoy relaxing cruises along the coast. Some boat tours even offer opportunities for swimming and snorkeling.


Local Cuisine: The town has a variety of restaurants and tavernas serving both Cypriot and international cuisine. You can savor fresh seafood, traditional meze dishes, and local delicacies while enjoying views of the sea.


Nightlife: While Protaras is generally quieter than neighboring Ayia Napa, it still offers a decent nightlife scene with bars and beachfront clubs where you can enjoy live music and cocktails.


Cultural Attractions: Although Protaras is primarily a resort town, it is close to some historical and cultural sites, including the Ayia Napa Monastery and the ancient ruins of Amathus.


Relaxation: Protaras is an excellent destination for those seeking a relaxed and laid-back vacation. Many resorts and hotels offer comfortable accommodations, spa facilities, and tranquil settings for a peaceful getaway.


Whether you're traveling with family, friends, or seeking a romantic escape, Protaras offers a mix of natural beauty, water activities, and a relaxed atmosphere that makes it a popular choice for those looking to enjoy the sunny shores of Cyprus.