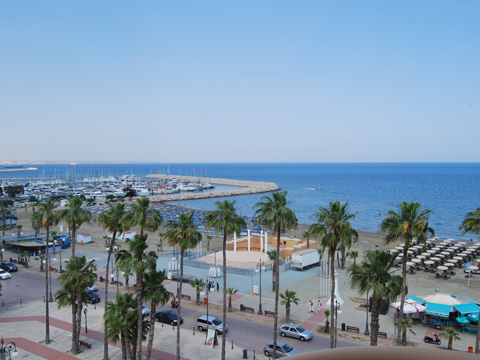 larnaca taxis
The journey from
Paphos Airport to Larnaca
is about 90 minutes and the cost by taxi is about 124 Euro for up to 4 people, 160 Euro for up to 6 people.
The journey from 
Larnaca airport to Larnaca
 takes about 20 minutes and by taxi costs about 30 Euro for up to 4 people, 36 Euro for up to 6 people. 
From Paphos airport, you can get to your hotel from any of the Larnaca hotels. You can book your holiday transfers with Acropolis taxis so you don't have to worry about your holiday transfers. The best way to get to Larnaca from Paphos aiport is to book your transfer ahead of time. Book your Larnaca taxi with us using our online taxi booking system.
Book your Paphos Airport Taxi to Larnaca NOW!
When you arrive at
Paphos International Airport
 you'll probably be looking for a fast and reliable transport option. Our airport taxis will pick you up from Paphos airport when you arrive, and we are committed to providing a high quality service that runs as smoothly as possible.
Our services are more than just a simple taxi ride. When you arrive at the arrivals terminal, your English-speaking taxi driver will be waiting outside with a sign that says "Welcome to Paphos." After a warm welcome, the driver will take care of your luggage. You don't have to worry about your flight if it's delayed. No matter when your airline arrives, all of our taxi drivers get real-time information about the arrival time so they'll be there to meet you when you arrive.

Our taxis at Paphos Airport
It's essential to ensure that you, your loved ones and your personal belongings are safe on your journey to the new city. Whether you are travelling with a large group or a small group, you can count on our taxi service if you would like to book a private taxi transfer ahead of time. Our spacious minivans can carry groups of up to eight people, so you can arrive at your hotel in comfort. If you are travelling with less than four people, we recommend hiring one of our elegant sedans to get you to your destination in style. With our convenient online taxi booking service, it is now simpler than ever to book your airport taxi in Paphos.

MEET THE DRIVER AT THE AIRPORT

A taxi will be waiting for you at Paphos Airport, with the taxi driver waiting for you with a name board. If you have any problems finding the driver you can call our offices at: +357 24622000 (24/7 phone service). If you have a lost luggage and/or you see that it is getting you long to exit please either contact our driver who is waiting or call our offices. The driver will be holding a name board. 
The City of Larnaca
The city of Larnaca is well-known for its picturesque seafront which includes rows of palm trees Here you will also find Larnaca Marina, one of the four official entry points, by sea, to the island. Much of the activity is centred around the city promenade during the major festivals.
FLIGHT DELAY? NO PROBLEM
Even if the flight is delayed, the driver will be at the airport at the new time of arrival at no EXTRA cost. If you do know that your flight will be delayed, please inform us in any way.
Within the city you'll see ancient temples, 13th century BC ruins, Byzantine churches and charming municipal gardens. You could even see the otherworldly evaporated salt lakes that now have only salt crystals left behind.
Book your Larnaca airport taxi to Larnaca town. 

Larnaca is a coastal city located on the southern coast of Cyprus. It is the third-largest city in Cyprus and is known for its historical sites, beautiful beaches, and modern amenities. Here are some key points about Larnaca:


Finikoudes Beach: Finikoudes Beach is one of the most popular attractions in Larnaca. This sandy beach is lined with palm trees and a promenade, making it a great spot for swimming, sunbathing, and enjoying the seafront cafes and restaurants.


Larnaca Salt Lake: Larnaca is home to the famous Larnaca Salt Lake, which is a network of four interconnected salt lakes. The lake is a habitat for migratory birds, including flamingos, making it a popular destination for birdwatchers, especially in the winter months.


Hala Sultan Tekke: Hala Sultan Tekke is a prominent religious site located on the banks of the Larnaca Salt Lake. It is an important pilgrimage site for Muslims and a significant historical and architectural landmark in Cyprus.


St. Lazarus Church: This Byzantine-era church is located in the heart of Larnaca and is known for its beautiful architecture and religious significance. It is named after St. Lazarus, who, according to tradition, was buried in Larnaca.


Larnaca Marina: The Larnaca Marina is a modern development that includes a marina, restaurants, shops, and apartments. It's a popular spot for leisurely walks, dining, and enjoying views of the sea and boats.


Historical Sites: Larnaca has a rich history, and you can explore various historical sites and museums, such as the Larnaca Fort, which houses the Larnaca Medieval Museum, and the Pierides Museum, showcasing Cypriot culture and archaeology.


Mackenzie Beach: Located near Larnaca International Airport, Mackenzie Beach is another popular beach known for its clear waters and vibrant nightlife. It's a hotspot for water sports and beachfront bars and clubs.


Cuisine: Larnaca offers a wide range of dining options, from traditional Cypriot tavernas to international restaurants. Fresh seafood and Mediterranean cuisine are common choices for visitors.


Stavrovouni Monastery: Located on a hill overlooking Larnaca, Stavrovouni Monastery is one of the oldest monasteries in Cyprus. It offers panoramic views of the surrounding countryside and is a place of religious significance.


Diving: Larnaca is a popular destination for diving enthusiasts. The nearby wreck of the Zenobia, a Swedish ferry that sank in 1980, is one of the top dive sites in the Mediterranean.


Larnaca's combination of historical sites, natural beauty, and modern amenities makes it a popular destination for tourists. Whether you're interested in exploring cultural heritage, enjoying the beach, or experiencing the local cuisine, Larnaca has something to offer for travelers of all interests.