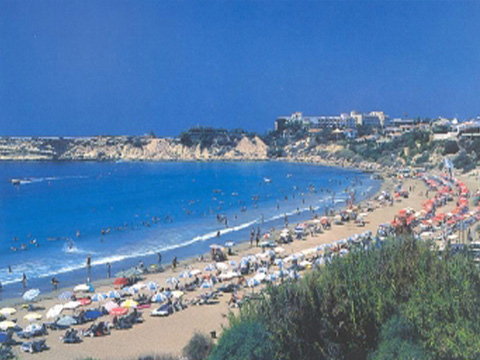 coral bay taxis
The journey from 
Larnaca airport to Coral Bay
 takes about 100 minutes and by taxi it costs about 145 Euro. The drive time from 
Paphos Airport to Coral Bay
 is about 40 minutes and the taxi cost is about 42 Euro. 
Travel from Larnaca Airport any Coral Bay hotel, with Acropolis Taxis so you can rest assured that your holiday transfers are in safe hands. Due to the lack of public transport to the resort, the easiest way to get to your place of residence is by booking a transfer in advance. Reserve your taxi Coral Bay with us. 
Book your Larnaca Airport Taxi to Coral Bay NOW!

FAQ
Which is the closest airport to Coral Bay?

The closest airport to Coral Bay in Cyprus is Paphos International Airport (IATA code: PFO). Paphos Airport is located on the western side of the island and is the nearest major airport to Coral Bay. The distance between Paphos Airport and Coral Bay is approximately 20 to 25 kilometers (about 12 to 15 miles), depending on your exact location within Coral Bay. Travelers can reach Coral Bay from Paphos Airport by taxi, shuttle bus, or rental car, and the journey typically takes around 30 minutes to 45 minutes by road, depending on traffic conditions. Paphos Airport is the most convenient choice for those visiting Coral Bay.
When you arrive at Larnaca airport your pre-booked driver will be waiting in arrivals to take you straight to your hotel. Get a quote using our online booking form. Coral Bay beach carries an EU Blue Flag certification which means that it adheres to all standards, rules and regulations required by the relevant committee of the European Union. This makes Coral Bay a cosmopolitan beach visited by tourists and locals alike.
The broader area of Coral Bay encloses another beach called Potima Bay. It is situated about 1.5 km / 1 mile away bordering the boundaries of Kissonerga village. This beach is a long pebbly beach with a deep blue sea that offers relaxation, tranquillity and privacy and attracts swimmers that are seeking just that. Apart from Blue Coral Beach Villas, an exclusive luxury holiday villa complex, there are no other buildings on this beach.
Coral Bay is a popular coastal resort area located near Paphos on the southwest coast of Cyprus. It's known for its stunning beach, clear waters, and a range of tourist amenities. Here's what you can expect when visiting Coral Bay in Paphos:
Coral Bay Beach: The main attraction of Coral Bay is its beautiful sandy beach, which is one of the best on the island. The beach is characterized by its crystal-clear waters and golden sand, making it a perfect spot for swimming, sunbathing, and water sports like jet-skiing and parasailing.
Water Activities: Coral Bay offers a variety of water-based activities, including snorkeling and scuba diving. The calm and warm Mediterranean waters are ideal for exploring marine life and underwater landscapes.
Bars and Restaurants: The area around Coral Bay Beach is lined with bars, restaurants, and tavernas, making it easy to find a place to dine or enjoy a refreshing drink with a view of the sea.
Nightlife: While Coral Bay is not as known for its nightlife as some other areas of Cyprus, there are still bars and clubs where you can dance and enjoy live music in the evening.
Nature and Hiking: The surrounding countryside offers opportunities for nature lovers and hikers. The Akamas Peninsula is nearby, providing a range of trails and outdoor adventures.
Paphos Attractions: Coral Bay is just a short drive from Paphos, where you can explore various historical and cultural attractions, including archaeological sites, the Paphos Archaeological Park, and the Tombs of the Kings.
Coral Bay Village: The nearby village of Coral Bay itself has a selection of shops, supermarkets, and other amenities for tourists.
Boat Trips: You can take boat trips from Coral Bay to explore the beautiful coastline, including trips to the Akamas Peninsula and the Blue Lagoon.
Golf: The Elea Estate Golf Club, designed by Nick Faldo, is relatively close to Coral Bay, making it a convenient destination for golf enthusiasts.
Family-Friendly: Coral Bay is a family-friendly destination with a safe and shallow shoreline, making it suitable for children to swim and play.
Coral Bay is a popular vacation spot for those seeking a relaxed beach holiday with easy access to amenities and outdoor activities. It's an excellent choice for families, couples, and anyone looking to enjoy the natural beauty and recreational opportunities of Cyprus.