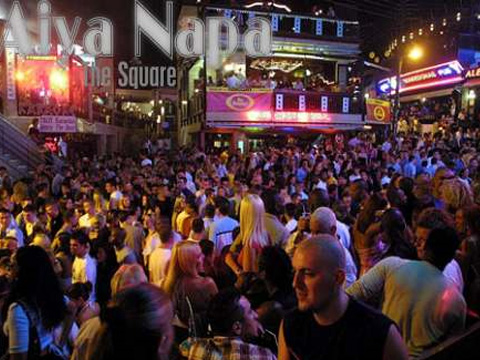 The drive time from 
Paphos Airport to Ayia Napa
 is about 140 minutes and the taxi cost is about 160 Euro.  The journey from 
Larnaca airport to Ayia Napa
 takes about 40 minutes and by taxi it costs about 59 Euro. 
Travel from Paphos Airport any Ayia Napa hotel, so you can rest assured that your holiday transfers are in safe hands. The easiest way to get to your place of residence in Ayia Napa is by booking a transfer in advance. Reserve your taxi Ayia Napa with us. 
Book your Paphos Airport Taxi to Ayia Napa NOW!

Ayia Napa is a world-famous tourist destination. Ayia Napa is a popular beach resort located on the south east corner of the island. The village, once a small fishing village, has grown in popularity in recent years.
Ayia Napa holidays cannot be complete without mentioning the fantastic and frenetic nightlife.  Ayia Napa holidays have earned a reputation for being a hotspot for dance music and big name DJs. Holidays to Ayia Napa can even be credited with increasing the popularity of the UK's R'n'B, Garage, and Grime music scenes due to its sleek, modern bars and large, lively clubs.
Ayia Napa has much more to offer than just nightlife. With so many five star hotels in the area, you can enjoy a peaceful holiday with all inclusive luxury. Families with children will find Ayia Napa just as enjoyable as clubbers, as there are plenty of water parks and go-karting courses close by.
Ayia Napa attracts a large number of tourists and features a number of bathing beaches, on which water sports such as water-skiing, windsurfing, canoeing, scuba diving, and speed boating are popular. Ayia Napa holds the first place for having the most beautiful beaches in Cyprus. Nissi beach , Konnos, Pernera and Limnara are some of the outstanding beaches along Ayia Napa. The most popular of these beaches is Nissi beach, which is visited mainly by clubbers and young people in the summer and gets quite crowded.
Ayia Napa is visited by hundreds of thousands of tourists each summer, mainly from Western and Southern Europe. In the summer the resort mainly attracts two types of people: free young people and young people usually under 25, who are attracted by Ayia Napa's reputation for nightlife and spree in the city center. The other type of tourists are couples and families with children who visit the resort mainly due to the wonderful weather and the sandy beaches. With more than fifty bars and ten nightclubs, Ayia Napa is worthy of being named Europe's most fun capital along with Ibiza. Tourists visit Ayia Napa also during the winter season, mainly tourists from the Scandinavian countries. It is also a destination for European football teams to train at the sixteen football stadiums built by the municipality of Ayia Napa.
Want to get an airport taxi from Paphos to Ayia Napa?
Book your Taxi from Paphos Airport to Ayia Napa NOW!

FAQ
Does Ayia Napa have an Airport?
No. Ayia Napa does not have an airport. The two airports in Cyprus are the Larnaca International Airport and Paphos International Airport.
Their official website is here.
The closest major airports to Ayia Napa are Larnaca International Airport (IATA code: LCA) and Paphos International Airport (IATA code: PFO). Larnaca Airport is the more convenient option and is located approximately 40 kilometers (about 25 miles) southwest of Ayia Napa, while Paphos Airport is located further to the west of the island. Travelers heading to Ayia Napa typically use Larnaca Airport for their arrivals and departures. From the airport, you can easily reach Ayia Napa by taxi, shuttle bus, or rental car.

HOW TO TRAVEL TO AYIA NAPA FROM THE AIRPORTS
There are two main airports you can use to reach it: Larnaca International Airport (LCA) and Paphos International Airport (PFO). Here's how to travel from each airport to Ayia Napa:
Traveling from Larnaca International Airport (LCA) to Ayia Napa:
Taxi: Taxis are readily available at the airport. It's the most convenient but also the most expensive option. The ride to Ayia Napa takes about 45 minutes, depending on traffic.
Airport Shuttle: There are airport shuttle services that can take you to Ayia Napa. Look for shuttle companies or shared minibus services that operate from the airport. This can be a more cost-effective option than a taxi.
Rent a Car: Many car rental companies operate at Larnaca Airport. Renting a car gives you the flexibility to explore the area at your own pace. Follow the signs from the airport to the car rental area.
Traveling from Paphos International Airport (PFO) to Ayia Napa:
Taxi: Taxis are available at Paphos Airport, but the journey to Ayia Napa is much longer, approximately 2.5 to 3 hours. This option can be expensive.
Airport Shuttle: There are shuttle services that operate from Paphos Airport to Ayia Napa, but they may not be as frequent or convenient as those from Larnaca Airport. Check for shuttle services in advance or at the airport.
Rent a Car: Like Larnaca, you can rent a car at Paphos Airport. Renting a car is a good option if you want to explore other parts of Cyprus during your stay.
Public Transportation: While not as common, there are public bus services that connect Paphos Airport to Ayia Napa, but they often require transfers and can take a long time. Check the latest bus schedules and routes.
Regardless of which airport you arrive at, it's a good idea to plan your transportation in advance, especially if you arrive during the peak tourist season. Confirm the availability and schedules of transportation options, and consider your budget and preferences when choosing the best way to get to Ayia Napa from the airport.
 
WHEN TO VISIT AYIA NAPA
The best time to visit Ayia Napa in Cyprus depends on your preferences for weather, crowds, and activities. Here's a breakdown of the different seasons to help you decide when to plan your visit:
Spring (March to May):
Spring is a pleasant time to visit Ayia Napa as the weather starts to warm up.
The temperatures are mild, ranging from 16°C (61°F) to 25°C (77°F).
Spring is a great time for outdoor activities like hiking and exploring the natural beauty of the area without the intense heat of summer.
The town is less crowded compared to the peak summer months, making it easier to find accommodation and enjoy a quieter atmosphere.
Summer (June to August):
Summer is the peak tourist season in Ayia Napa, with hot and sunny weather.
Daytime temperatures can soar to 30°C (86°F) or higher, and the Mediterranean Sea is warm and inviting.
This is the time for beachgoers, water sports enthusiasts, and those looking for a lively nightlife scene.
Ayia Napa hosts various events, parties, and festivals during the summer months, making it a vibrant and energetic destination.
Autumn (September to November):
Early autumn (September) is a great time to visit if you want to enjoy warm weather and fewer crowds compared to the peak summer months.
The sea remains warm for swimming and water activities.
Temperatures start to cool down gradually, ranging from 20°C (68°F) to 30°C (86°F) in September to 15°C (59°F) to 25°C (77°F) in November.
It's an excellent time for exploring historical sites and enjoying outdoor activities without the intense heat.
Winter (December to February):
Ayia Napa experiences a mild Mediterranean winter, with temperatures ranging from 10°C (50°F) to 18°C (64°F).
While it's not a beach destination during this time, it's a peaceful period for those seeking a quieter, more relaxed atmosphere.
Many tourist services and accommodations may have reduced availability during the winter months.
It's suitable for budget travelers and those interested in cultural experiences, as you can explore local life and enjoy lower prices.
In summary, the best time to visit Ayia Napa depends on your preferences. If you enjoy hot weather, vibrant nightlife, and water activities, summer is the ideal time. Spring and autumn offer milder weather with fewer crowds, making them excellent choices for a more tranquil experience. Winter can be an option for those seeking a peaceful escape but with limited beach and water-related activities.
Ayia Napa is a popular tourist destination located on the southeastern coast of Cyprus, an island nation in the eastern Mediterranean Sea. It is known for its vibrant nightlife, beautiful beaches, and crystal-clear waters. Here are some key points about Ayia Napa:
Beaches: Ayia Napa boasts several stunning beaches, including Nissi Beach, Makronissos Beach, and Fig Tree Bay. These beaches are known for their golden sands and clear, turquoise waters, making them ideal for swimming, sunbathing, and water sports.
Nightlife: Ayia Napa is renowned for its lively nightlife scene. The town is home to numerous bars, clubs, and beach parties that cater to tourists looking for a good time. The Ayia Napa Square is a popular hub for nightlife activities.
Water Sports: Visitors to Ayia Napa can enjoy a wide range of water sports, including jet skiing, parasailing, scuba diving, and snorkeling. The warm Mediterranean waters make it an ideal place for such activities.
Cape Greco National Forest Park: Just a short drive from Ayia Napa is Cape Greco National Forest Park, a protected natural area known for its rugged coastal landscape, sea caves, and hiking trails. It's a great place for outdoor enthusiasts and nature lovers.
Ayia Napa Monastery: The Ayia Napa Monastery is a historic site in the town. It dates back to the 16th century and is a peaceful place to visit amidst the bustling tourist scene. The monastery is known for its beautiful architecture and serene courtyard.
Cultural Events: Ayia Napa hosts various cultural events and festivals throughout the year, including music festivals, traditional Cypriot celebrations, and arts events. These events add a cultural dimension to the town's vibrant atmosphere.
Family-Friendly Attractions: While Ayia Napa is famous for its nightlife, it also offers family-friendly attractions like water parks, mini-golf courses, and boat trips, making it suitable for visitors of all ages.
Cuisine: The town offers a diverse range of dining options, including traditional Cypriot dishes, international cuisine, and fresh seafood. You can enjoy local specialties such as souvlaki, halloumi cheese, and meze.
Shopping: Ayia Napa has numerous shops and boutiques where you can shop for souvenirs, clothing, and local products. The town's markets are also worth exploring for unique finds.
Ayia Napa's combination of beautiful beaches, exciting nightlife, and cultural attractions has made it a popular destination for tourists from around the world, especially during the summer months. However, it's important to note that the level of nightlife and crowds can vary depending on the time of year, so visitors should plan their trip accordingly based on their preferences.